Acrylics Painting, Puppy Soul – Jack Russell Painting
January 22, 2018
Dog Painting
Jack Russell Painting in Acrylics
In December, last year, I worked on two painting with animals: a cat and a dog painting in acrylics. I used reference photos of real animals, but I wished to express them in my own style. I wanted them to be in bright colors and to feel alive. And they came out as I was expecting. I don't know the breed of the cat, but the dog is a Jack Russell. This breed is one of my favorites.
For the puppy, I used a photo reference of a Jack Russel puppy. I like this type of dog because it's a small breed and it has short hair. This painting is one of the artworks that I really love. I have a feeling like each one of my paintings is like a child I send into the world. I really wish them to be appreciated.
The Cat Painting can be found here. I used complementary colors to paint the grey cat. These painting could be used as a pair in children's room or individual in rooms with similar chromatics.
What brands I used to create the Jack Russell painting
I used beside Maimeri Italian acrylics colors. They are full of pigment and have a great adhering process to the canvas. I used brilliant orange and brilliant blue for the background. As a finishing layer, I used Glossy UV Varnish from Winsor & Newton. It has a beautiful shiny effect and protects the painting against UV and aging effects and other damage. The paintings are also painted on the sides, so they don't necessarily need a frame. The paintings don't come with hanging accessories, this is up to the customer's choice.
For example, my sister has one of the oil painting I painted. She put a dark-blue frame on it and that's something I would have never picked for it. But she knows better what furniture she will buy for the room where the painting is hanged. So, most of the time, I don't frame the paintings I do. This way, the one who gets the painting can choose what they like.
To clean the painting use a dry soft cloth without pressing too hard on the painting.
You can find the digital print of this dog painting in acrylics on my Etsy page here.
Details
Materials: acrylics on stretched canvas on wood frame
Tools: brushes and palette knife
Size: 24 cm x 18 cm
Date: December 2017
Details at [email protected] or [email protected]
You could also send me a message or your questions using the contact form.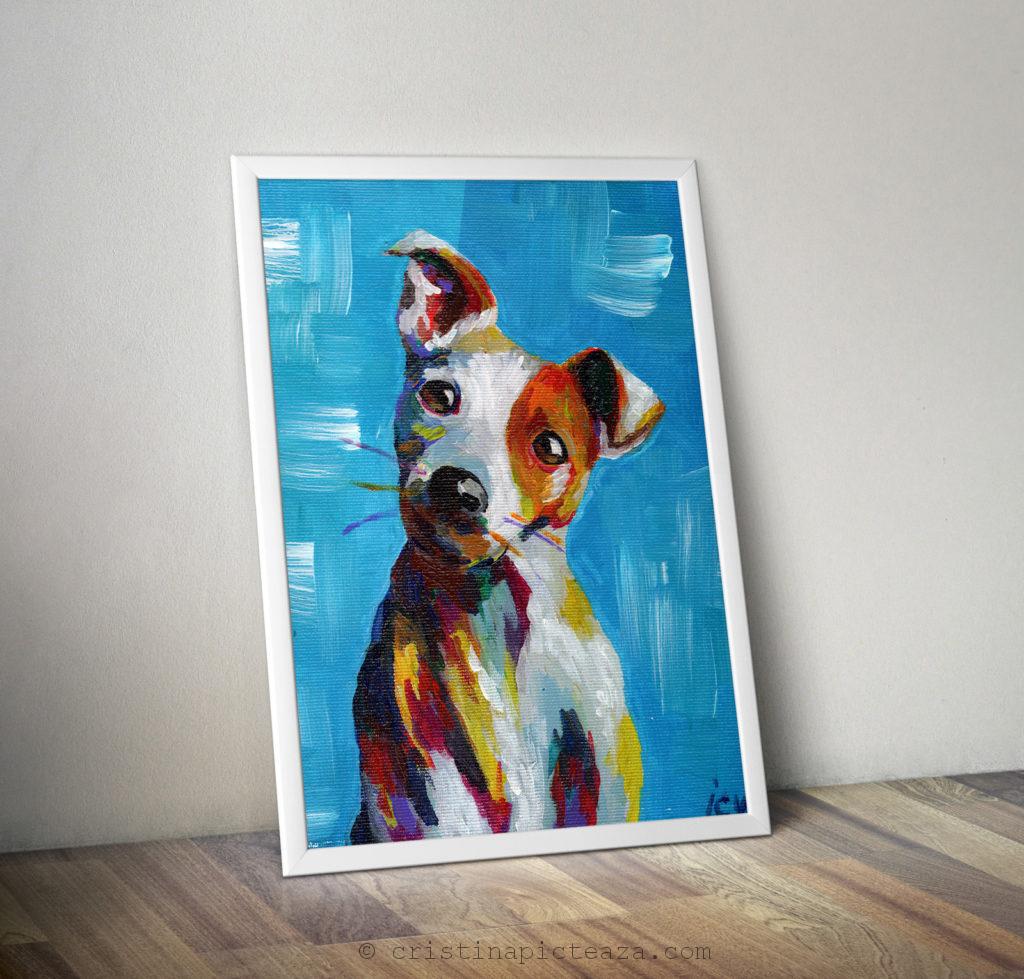 You May Also Like
May 27, 2019
February 12, 2018
January 5, 2019