Anime girl drawing tutorial video (How to)
October 25, 2020
Welcome to our art blog! In this article you will find 6 anime girl drawing tutorial videos that you can use to study and draw beautiful and cute anime girl faces. The tutorials are easy and anyone can do them. For these tutorials you will need only a regular HB pencil or a 0.5 mechanical pencil and print paper, A4. Nothing fancy, no special paper or pencils. We are only trying to learn how to draw a cute face. That is why in the beginning it is alright to learn to draw on normal paper.
In these anime girl drawing tutorial videos you will notice that we start by drawing simple shapes, but the beauty of the face pops out when we start adding details. That is why it is important to not give up and practice your drawing. All these tutorials can be found on our Youtube channel. Let's begin!
Anime girl drawing tutorial with a messy bun
For any of these drawings we will start by drawing a circle. Because we are drawing in anime style we will not use any real anatomy rules. Starting from the circle we mark the middle of the face. This is where we will draw the eyes and next the nose and mouth. Do not use harsh lines because we will delete these helping lines afterwards. All these following videos are simple and if you have enough patience you will learn how to draw a cute anime girl too.
For this drawing it is important to create more areas of the hair to make it look messy. I choose to draw the hair in a bun, some short bangs on the forehead and some locks on the side. Do not skip drawing the shades of the anime girl drawing. They will make the difference from a normal drawing and a great artwork.
Pencil drawing of an anime girl with long hair
The second drawing of an anime girl is a long hair girl tutorial, of course. We drew a girl with curly long hair because it can be challenging to draw this hair. While drawing straight hair pose no problem, curly hair can be hard to achieved in a drawing. Pay attention to the shadows of the face, to the distance between the eyes, nose and mouth and their space from the face's limits. Take a look at the following drawing to understand these principles:
How to draw an anime girl with pigtails video tutorial
A more playful drawing is an anime girl face with pigtails. This tutorial is also focusing on the flow of the hair when the wind is blowing. For a beginner it is easier to include in the drawing the wind blowing from a single direction. If the wind is blowing from the right side, then the hair will flow to the left, more from the ends than from the roots. Also the hair of the girl is split into sides. Take a look at the following anime pencil drawing tutorial video:
Anime girl drawing with bangs on her eyes
A more challenging artwork is to draw a girl with bangs on one of her eyes. The following drawing is a beautiful and interesting sketch tutorial which will help you learning drawing techniques. This drawing is more special than the others because it has a special romantic atmosphere around it. Let's see how to create this drawing:
How to draw a girl with a hoodie tutorial
A lovely trend is to draw a girl with a hoodie on and cat ears. The following pencil drawing of a girl has a cute style because of her expression, the hoodies and the cute cat ears. You need to pay attention to the hair, the highlights and the details of the face.
Drawing tutorial of a girl winking and smiling
Our last tutorial in this series is the video of how to draw a girl winking and smiling using pencil on paper. This tutorial will help you build a lovely expression on the face. To build a character and a personality in a drawing it is important to pay attention of the details and expressions of the face. If the character looks tired, sad, happy or excited, this should be expressed on their face. The following girl is has a very friendly, extroverted and bubbly personality:
Thank you for watching these anime girl pencil drawing tutorials and I hope you learned something new. For more tutorials do not hesitate to check our tutorial category. We are publishing pencil drawing tutorials, oil, acrylic and watercolor tutorials too.
Have a nice day!
You May Also Like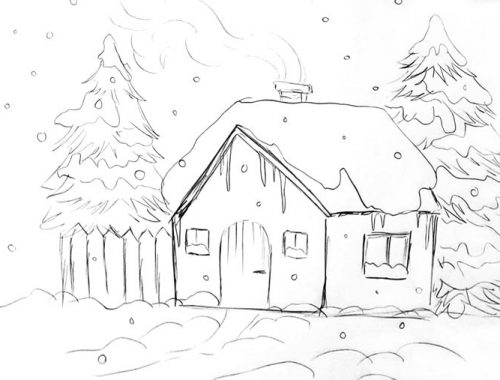 February 13, 2021
October 14, 2019