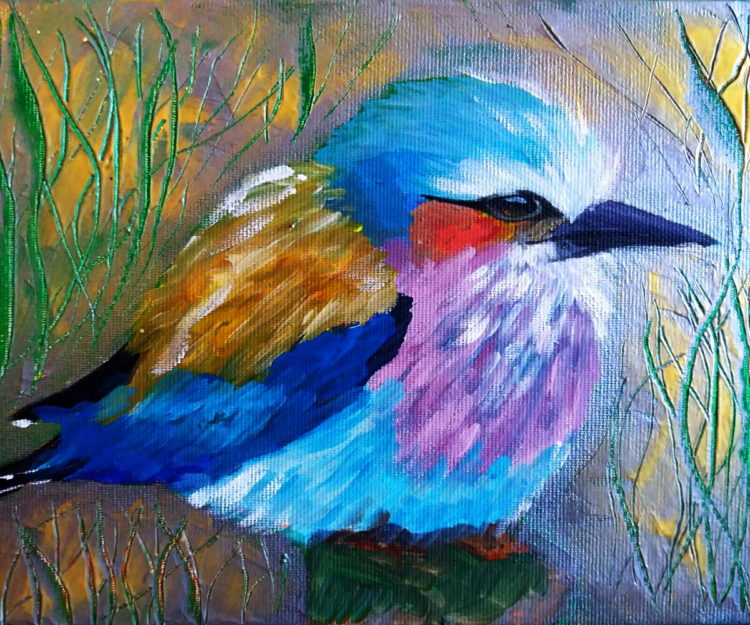 Colorful African bird acrylic painting
October 2, 2017
Coracias caudatus – African bird acrylic painting
After a long time, I won the fight with myself, I struggled and I took the brush in my hand and started painting. I finally just did it without trying to reflect too much. I've been searching for an idea, something that I could grab and transpose into something, but not just any idea. I've been searching for a deep connection with all the things that went trough my mind these months and to put it on canvas, but I just couldn't.
When I painted "Human waste" I could grab the idea and everything, but I could do nothing this time. The ideas are like steam and I can't connect them with the reality. This fact blocked me from doing something I truly love. Today I decided to just paint, even if it's not a deep transcending idea, it could still get me closer to grabbing the ideas that float above me. And the ideas grabbed me instead.
Somehow I believe that the ideas are only half-created when you start the canvas, because as you work, it reshapes and recreates itself while you paint.
The Painting Process
Coracias caudatus is a beautiful African bird, also called Lilac Breasted Roller. It's a beautiful bird I picked while googling for something inspiring. I chose to paint the African bird in acrylic paint on a small canvas that's been waiting for me to use it.
For the background I used something new and also silver and golden acrylic paint. Green, yellow and orange were the base colors for the background. I used silver paint and a bit of golden. Before letting it dry I used a cutter to make cuts in paint that would mimic the grass. I didn't want to use strong colors because it would take the attention away from the bird.
A small step – first success
This bird acrylic painting was sold and I was amazed, because it was my first serious and original painting. I simply felt like drawing a small bird, with details and many colors. The painting was sold to a mister who loves birds and told me he desired to decorate a wall next to his birds' cage.
I am extremely happy when I find out where my paintings are destined to be and what lives and places they beautify.
These moments are one of the happiest for me, when people tell my that my paintings are making them feel better and are inspiring them.


Details
Materials: acrylics painting on canvas
Signed on front.
Date: April, 2017
Details at [email protected]
You can also message me using the contact form.
You May Also Like
January 15, 2018
January 22, 2018
January 5, 2019