How to oil paint a Winter Landscape on Canvas
December 6, 2018
Winter Oil painting on Canvas – Landscape painting
It seems a nightmare to use oil color, but I will help you learn how to oil pain a gorgeous winter landscape painting on canvas. I had troubles too, at first, when I painted my first oil painting. I learned how to oil paint using a palette knife and following the video tutorial of the Spanish impressionism painter, Leonid Afremov. It suddenly felt like a rock has been lifted off my shoulders. But still, I wanted to learn how to paint in oil using brushes.
I went to a short seminar of oil painting and I learned what I was doing wrong. To paint in oil you need to use thinner solution. I usually place a small quantity and dip the brush or clean it when I must change the color I am using. That two hours seminar really helped me, because it gave me trust in myself and in my ability to use oil paint.
The thinner I am using is produced by the Italian company, Maimeri. This is the brand I could find at the local art supplies shop I am frequenting. Maimeri is usually a great brand and I have nothing to complain about. I am also using acrylic and oil paint from this company.
I sold several oil paintings and I couldn't be more grateful. Here is the list of tools I used to create the winter landscape painting in oil paint.
You can see my other oil paintings articles on my website, the Ship Painting or the Forest in the Sunset. I used a palette knife to create these paintings. I will soon publish an article about how to use a palette knife to paint in oil. It's easier than using a brush and less messy.
Tools:
oil paint
brushes
A4 cotton canvas pad
thinner for oil paint
Winter Scenery Video Tutorial
Oil paint is a quite versatile medium and I love that it's keeping its brightness and color intensity, even after drying. The best part about this painting was panting the sky. I used pastel colors and the sky looks soft and warm in the winter landscape. Painting layers can be tricky because the colors will begin mixing on the canvas.
The winter landscape painting is supposed to give a cold feeling due to the snow and ice covering the scenery. However, I used purple, yellow and orange to warm the sunlight that's covering the earth. The river is supposed to reflect the colors of the sky and intensify them. That's why it's purple.
The video tutorial of how to oil paint a winter landscape on canvas was uploaded in real-time. This way, you can watch the video and follow my paint strokes. You can paint the same scenery or find inspiration to create something original.
How to oil paint a winter landscape on canvas
I hope you enjoy my video tutorial on how to oil paint cold scenery. Don't forget to subscribe to my Youtube channel to be announced when I publish more painting videos. So here it is, the video of my oil painting tutorial. Thank you! See you soon!
You May Also Like
April 17, 2017
September 2, 2017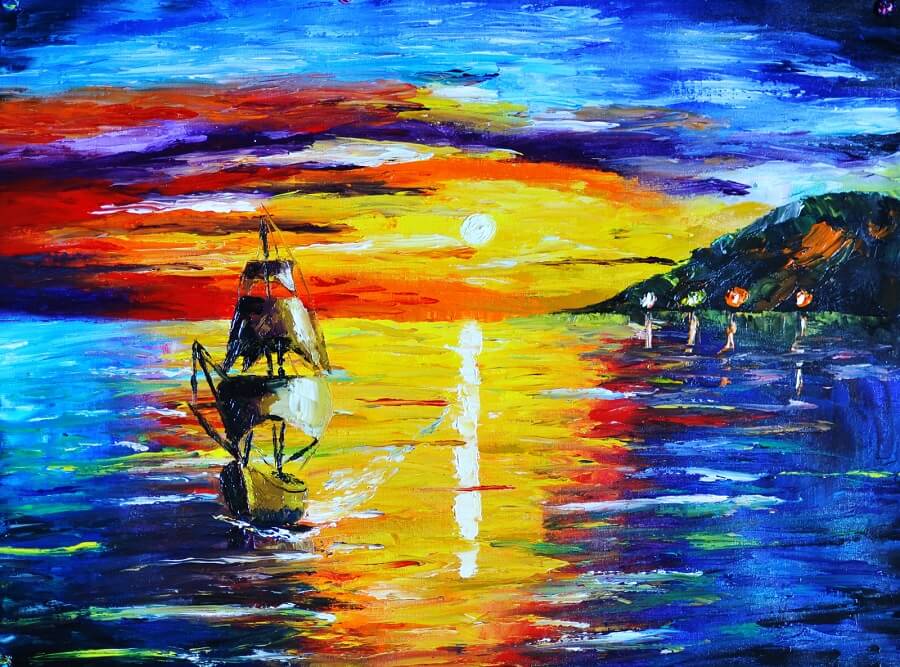 September 9, 2017