Spring Mountains – Oil and palette knife painting 23/300
February 7, 2019
To greet Spring a bit earlier, I decided to create an oil and palette knife painting of a mountain. This landscape painting is featuring mountains sceneries, a glacier lake, and a hut near a daffodil meadow. I include this painting in my 2019 painting challenge of creating 300 paintings.
I am a person who gets bored quite quickly. So in my world, each season stars one month earlier :D. I painted a lot of watercolor and oil painting featuring winter in all its forms. It is only fair to start creating spring sceneries and landscapes. Also, I want to improve my palette knife technique. I love to paint with a palette knife more than using brushes. The great advantage is that you don't waste as much paint as you'd waste with a brush. Or maybe it's just me.
Tools for creating a palette knife painting
oil paint (Maimeri, Italy and "Fondul Plastic", Bucharest, Romania)
palette knife (Ferrario, no. 3)
cotton canvas sheet
paper towels
pencil for sketch
I usually begin with the pencil sketch, just so I know where is each element. But more to create a mental image of the painting. When it comes to painting in oil since it's an opaque medium I start painting the background and far away elements. Slowly, I paint the elements that are closer.
A good thing to remember when painting with a palette knife is that it's preferable not to paint in layers. Don't under-paint the entire canvas and add a new layer of paint on top of that. It's a waste of oil paint. And if you're a cheap person like me, you won't like to waste color.
It's a bit difficult to paint wet on wet with oil colors. That's a personal opinion. But if you dive in this medium and technique you might start to like it. But I prefer to paint with clean color strokes. I don't like it when the colors mix on the canvas, and I try to be careful. If you want to see more paintings done with palette knife see my list of creations. 
Palette knife painting video tutorial
You can watch the video tutorial of my palette knife painting below. I hope it's useful and it will help you learn one or two small things about palette knife painting. Also, see the palette on the left side of the video and how I use the colors. Subscribe to my Youtube channel if you like to paint and want to see more painting ideas and videos.
You May Also Like
January 25, 2019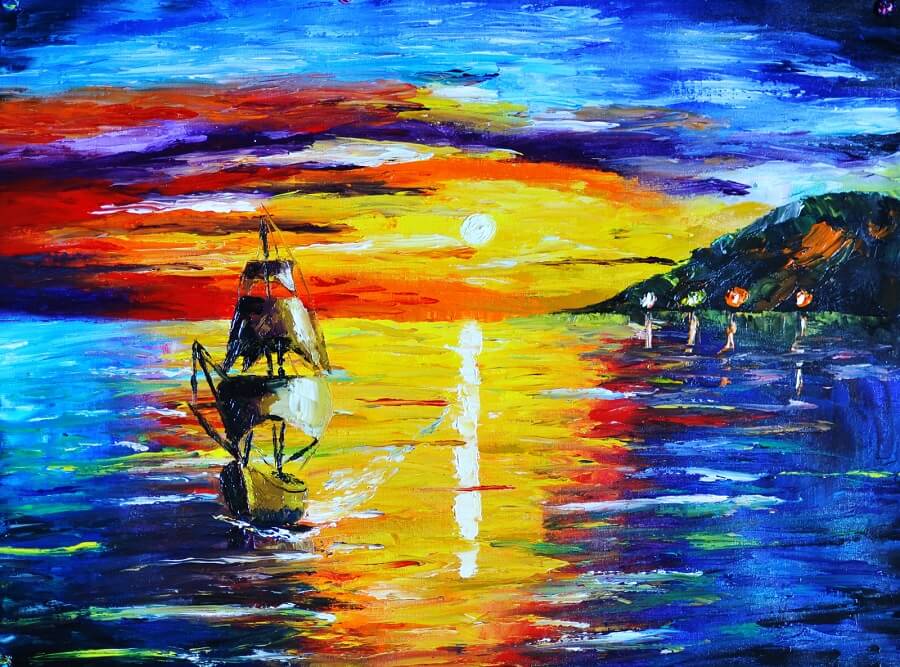 September 9, 2017
February 13, 2021