Oil Painting Mermaid at Sunset – Siren Painting in Oil
September 2, 2017
Siren Painting in Oil – Mermaid at Sunset
How to create beautiful mermaid images?
The "Mermaid at Sunset" painting is one of the artworks I did in September, last year. It's a siren painting that I'm very proud of. It's been a very productive period for oil artwork and I really got the taste of oil painting. I didn't love this technique too much before, but now I really adore it. The way the paint spreads and how beautiful it turns out when it dries. I prefer to work with clear colors and occasionally mix them together.
I always look for beautiful mermaid images to inspire my paintings. The fantasy and surreal are subjects that I am not yet very courageous to try. Hopefully, soon enough I will work on something like that.
My inspiration and role model
This siren painting is done using palette knife and oil colors. I admit I was afraid to use a palette knife and, especially, oil colors. The maneuverability of these instruments and art supplies is low. A Spanish painter, Leonid Afremov, inspired me to pain in oil paints.
I watched one of his tutorials and learned how to pain just like him. I am extremely happy about this evolution in my art. To be honest, the moment when I learned to paint like him, I pushed myself over my limits.
I really felt like a mermaid getting out of the water and learning to walk or even… FLY. After painting a few works like Leonid I researched more art and learned to build my own style. I believe that following a certain artist and copying other people's artwork is something great.
In the first place, you learn to paint like someone who maybe worked many years until he found that technique for himself, and you do it fast. You find tips and tricks about your art mediums and you have the choice to build your personal style after you learn about all the mediums.
The first painting I did in impressionism trend was Autumn. I was impressed! I couldn't believe I did a painting just like Leonid Afremov. I've been admiring him for years, but never believed I could do something like his works. It felt overwhelming.


This siren painting in oil is one of the oil artworks I did in that period, in 2017. The others ones are: Autumn lights, Ship in the Sunset, Forest in the Sunset and Sailing ship in the Sunrise. The first two paintings are not in my possession anymore.  Also, the Autumn painting is with its owner.
Hopefully, I will make a tutorial on how to paint with oil colors on canvas and film it soon enough.
Thank you for reading my blabbering and I hope you like how my siren painting came out.
Also, if you want to see videos of my paintings and drawing and how I do every artwork you see on my website, please go and check out my fresh Youtube channel.
Details
Medium: Oil painting "Mermaid at sunset" on wood stretched canvas
Tools: palette knife
Size: 40 cm X 30 cm
Details at [email protected]
You May Also Like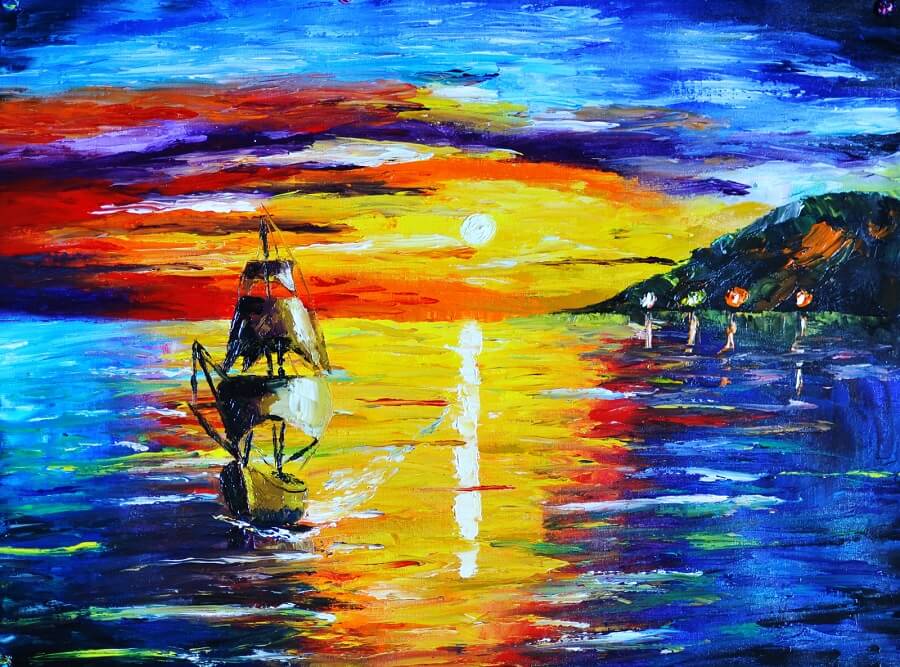 September 9, 2017
January 1, 2019
December 6, 2018