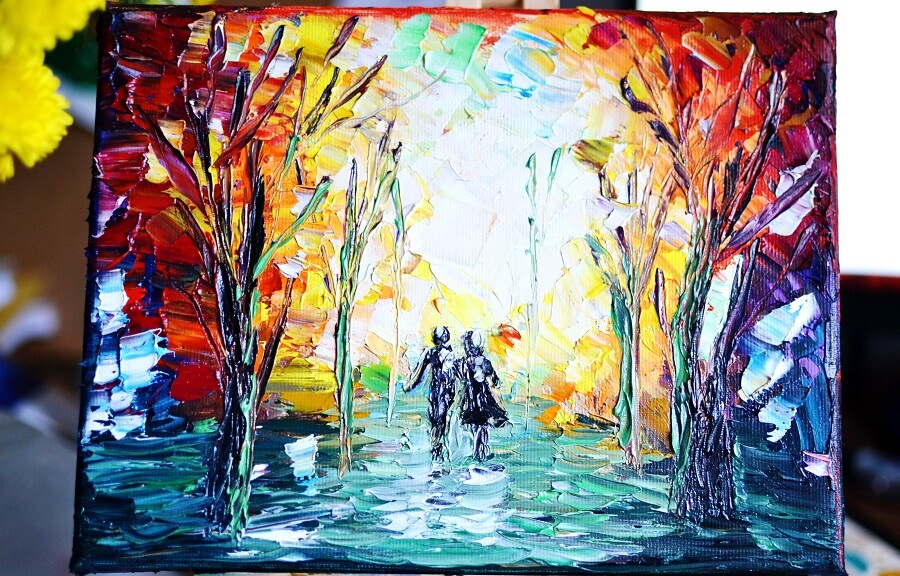 Oil Painting Forest in the sunset
October 22, 2017
Oil painting Forest in the sunset  – Painting in Oil Colors
Colorful forest in oil paint
I was afraid to work with oil colors before, but after attending a one-time oil painting class I learned its secret. Forest in the Sunset is a soulful painting sharing love and kindness, where the forest is there to protect you and guide you to the light.
I perceived the forest as a metaphor for the motherhood, where nurturing feelings embrace you, love, and understand you. The vague silhouette of the couple in the center of the painting is the symbol of love.
The painting is quite small, but it has eye-catching shapes and colors.
I hope you enjoy this little forest painting in oil paint. It's a beautiful autumn artwork that looks great in any living room. Also, on my Youtube channel, you can find more oil painting forest videos, even watercolor or acrylic painting of forests.
Below, I will add a few words I came up with, a small poem, about love and romance, in the Fall season.
Autumn by Cristina-Vivi Iordache
There are times of love and times of hate
But the road I take leads my own fate
The color of the blood, the color of the road
The color of the sea, the color of the tree
The warmth of your hand
Embracing my destiny.
Hard times will come, bright times we'll meet
The same road, forever, we'll feel with our feet
Hand in hand together we will always ride
Walking towards the light with you by my side
Details:
23 cm x 18 cm
Painted on stretched canvas on the wooden easel
2017, Autumn
High-Quality paints and materials
Still available – Send me a message using the Contact page or send me an email at

[email protected]
You May Also Like
December 6, 2018
September 2, 2017
February 7, 2019