Sunflower T-Shirt Painting Ideas
July 30, 2019
Sunflower T-Shirt Painting Ideas – Last couple of weeks, I worked on some t-shirt for my mom and my niece. And I would like to share with you some T-shirt painting ideas about how to create a unique design for your shirt or piece of clothing.
The first t-shirt I worked on this year and a couple of them that I offered to my friend and her boyfriend, when I visited them in Belgium, earlier this year. For her, I created a design featuring Bianca del Rio, a famous drag-queen that appeared and won a season in Ru Paul's Drag Race. And for her boyfriend, I worked on a t-shirt with Mario.
I bought only two paint colors back then, red and black to create the design. Since it was the first time working on clothing artwork, I used tracing paper to transfer the drawing on the paper using a pencil.
I placed a piece of cardboard inside the t-shirt, otherwise, the paint would transfer on the back of the t-shirt. I worked on the drawing with a pencil and then I filled in with paint. I used an iron to set the color in and then I washed them. The color looks great on them. For these two shirts, I used Jacquard paint.
Sunflower T-shirt Painting Ideas
For the sunflower design, I used a different type of tools to color. My friend from Belgium offered me textile markers and I decided to try them out. I worked on a couple of shirts for my mother and my niece. Let's see what materials I used on this project.
T-shirt painting materials:
a piece of cardboard
clothespins to hold the material on the cardboard
a pencil
Textile Art markers
Jacquard paint for textile
Pentart paint for textile
brushes and sponges



Steps in creating a Sunflower t-shirt
First, I inserted the cardboard insider the t-shirt and fixed it with clothespins
Using a pencil I drew the shape of the sunflowers.
With black paint, I worked on the lines,
Using the markers I filled in the colors
Let it dry for a couple of hours or even a day to be sure
Finally, use an iron to fix the colors.
Only wash it gently, at maximum 30 degrees Celsius.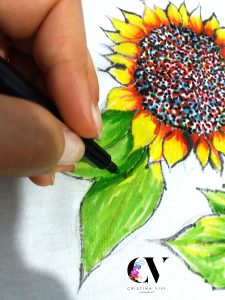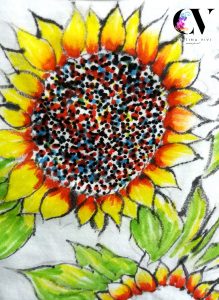 Mix the colors to create depth. Use blue on the leaves, where are supposed to be shadows. Use yellow, green and blue for them. For the petals of the flowers use yellow and red to create a lovely effect. I did not know how to make the seeds looks better so I colored many dots with all the colors. I am pleased with the effect, but you can try new methods.
As you can see, I did not create the design in the middle of the t-shirt, because I find prints on that part of the clothing piece, pretty boring. You can paint your design on any part you like. It's up to you and your imagination. My t-shirts also feature little sunflower and a butterfly on the shoulder, on the back of the t-shirt, but the pictures are not so good.
Thank you for reading my blog and I hope you will find this article useful!
Happy day!
You May Also Like
January 1, 2019
March 11, 2019
May 21, 2020